Interactive QR Code Postage Stamp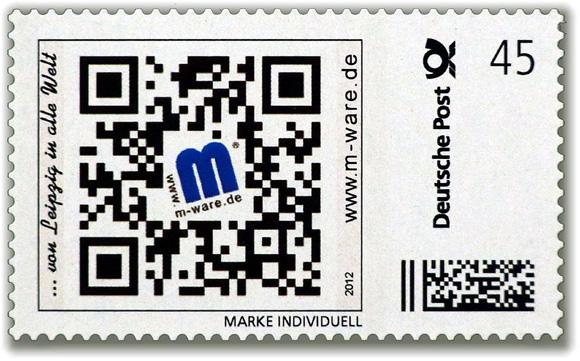 Innovative. Hip, trendy, popular. But unfortunately not yet imaginable for Deutsche Post. So it is not only a first, but also unique. For now anyway.
Probably the world's first interactive postage stamp with a QR code motif comes from Spain. It will be published in 2010 with a sensational design. Other countries follow the pioneering technology:
In 2011, an interactive stamp with a QR code will appear in Liechtenstein with the motto "150 Years of Future". The occasion here is the 150th anniversary of the Liechtensteinische Landesbank. In the same year, Croatia also published an interactive postage stamp with a QR code for the first time. On February 14, 2012, the Taiwanese Post surprises with two particularly successful Stamp motives for Valentine's Day. So-called design QR codes are also used here. On May 3, 2012, the Icelandic Post Office will issue a QR code stamp as Europe stamp 2012 Island 2012, in which a QR code is imaginatively combined with a landscape motif. On September 18, 2012, the announcement of the relaunch of the first Russian postage stamp with a QR code for the 2014 Olympics in Sochi was published.
We have set ourselves the goal of establishing postage stamps with the modern QR code in Germany as well. In February 2012, we approached Deutsche Post for the first time to issue a stamp with an interactive QR code. This QR code can be scanned with a smartphone using the appropriate software and takes the viewer directly to a website. We received permission from Deutsche Post to have a first small edition of these stamps printed. It was agreed that 150 letters would be prepared and franked with the new QR code stamps for a Deutsche Post test. These letters have now been tested by the post office in a mail center. Although the certification test was successful, no approval has yet been granted for production runs. However, we very much hope that the new and modern printed image with its interactive capabilities will soon be able to conquer the medium of postage stamps in our country.