Postage Stamps Leipzig
Here you get to How-to Guide: Index
Postage Stamps: our Cartoon Series "... von Leipzig in alle Welt" ("... from Leipzig to each corner of the word")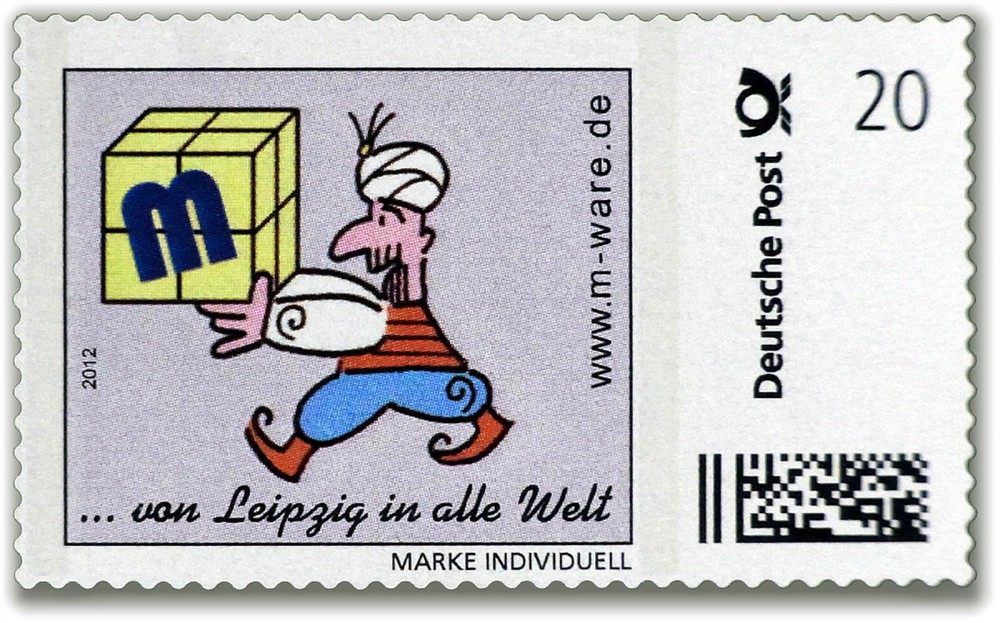 For this, only tiny measuring 33x55mm art object, as we find appropriate quote from the German poet F.W.Bernstein:
"Wichtig ist das Kleinformat,
"The important thing is the small format,
weil's uns was zu sagen hat.
because it has to say something.
Große Bilder zeigen
Large Images shows
Farb und Form und schweigen."
Color and shape, and remain silent."
The story of our own brand series begins in 2012. This year the starting shot fall for a cartoon series, every year will be extended by new designs. The idea was created a few years earlier. In 2009 launched the program "brand Individual" by German Post. Since then, you can let print stamps by DPAG with your own designs.
Our demands on the motifs are high. The preparation takes a long time. In 2011 a graphic designer was found whose designs are convincing: Lothar Otto from Leipzig. He creates a humorous series of postmen who deliver our packages "all over the world". Very nice motifs are created in the first year: an Indian, a cowboy, a European, an Indian and Santa Claus with a circulation of 1000 to 7000 pieces. Another great graphic artist is hired later, Ioan "NEL" Cozacu from Erfurt. Among other things, he also contributes a number of funny animal motifs. The small editions are based on our own needs. The 2013 series also includes the first supplementary stamp in a very small edition of only 200 pieces. Numerous other motifs follow. In the anniversary year 2024, the last five new cartoon motifs will appear for the time being. With the humorously designed stamps, our mail items will be visually enhanced to give our customers a little extra pleasure when they receive their order.
We experienced an unexpected interest in the marks and by collectors. Therefore, stamps and First Day Covers will soon be available for purchase in our webstore.
Read full story and discover all vintages of our multi-year stamp issues: